Logos
Business Cards
Datasheets

Billboards
Tickets

Posters

Flyers

Merchandising

Web ads

Eblasts

Copyediting

Websites

Rack cards

Publications

Manuals

Powerpoint

Illustration

Workbooks

Articles
CMS

Newsletters

Press kits

Proofing

...and more
Professional creative services in print design, online design and marketing, editing, desktop publishing, and project management. Specializing in graphics services for large-scale events, from promo and print advertising to email marketing, signage, passes, merchandising, and programs.
With over 20 years of experience, I work with you to bring your vision to life - on time and on budget. Please contact me for current availability. Thank you!
| | |
| --- | --- |
| | When Nest Bedding expanded to a larger headquarters location on the heels of opening another new location, they publicized their growth via a series of web ads on Apartmenttherapy.com featuring their organic mattress and bedding products. |
| | |
| --- | --- |
| | When the opportunity arose to cross-promote the 2013 Great Dickens Christmas Fair with Theatre Bay Area, we designed a special oversized rack card to appeal to their arts-loving audience, pairing the typographic enthusiasm of Victorian broadside advertising with Robert William Buss' famous painting "Dickens' Dream." The design proved so popular, that it will be offered for sale as a poster at the 2014 Great Dickens Christmas Fair. "Hurrah for the pudding! Hurrah for the Fair!" |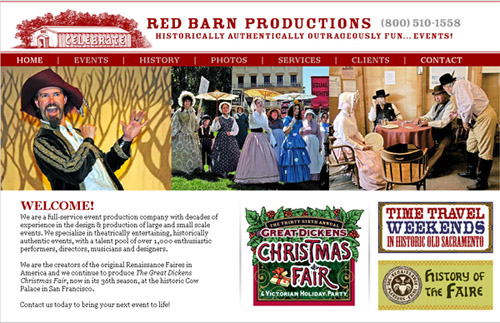 Reworking Red Barn Productions' logo to evoke their roots in living history theatre involved much research, field trips, and numerous sketches to arrive at the iconic 'red barn'. The new 'old-timey' logo was brought into a contemporary framework for their website, which features their ongoing events and event production services.
| | |
| --- | --- |
| | The b.good Marketing Manual is one of several in this franchisor's operations manuals library. This Boston-based quick service restaurant concept ("real.food.fast") required a clean, fresh format to convey brand standards to franchisees. Working closely with the franchising experts at MSA Worldwide as well as the folks at b.good, we delivered a user-friendly suite of franchise manuals to help their franchisees deliver the b.good brand promise to consumers. |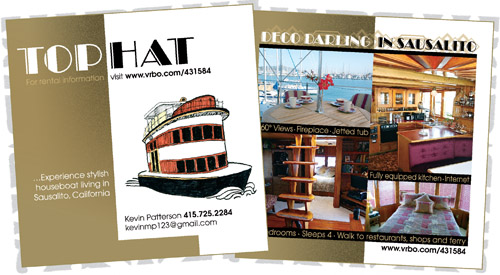 Oversized 'calling card' for a unique houseboat vacation rental in Sausalito. The houseboat, named "Top Hat" for its unique shape, and its artistic Art Deco detailing provided inspiration for the design.
Contact:
ajs@sanowdesign.com
office (415) 485-9263
cell (415) 259-7111